Oh my heart, this sweet potato hash. If you're in the market for a protein bowl recipe that's packed with veggies, complex carbs, and so many nutrients, then this sweet potato hash is for you! This recipe started as a kitchen sink recipe, but all of the ingredients used pair so well together.
HOW DO YOU MAKE SWEET POTATO HASH?
Who would have ever thought to use a cheese grater to make sweet hash browns? NOT ME. When we were in San Miguel, Lin's mother-in-law made us a sweet potato kale hash protein bowl similar to this one and that's what she used to grate the sweet potato. GENIUS. Here's how simple it really is…
Step 1: Peel sweet potato. This step is actually optional, but for classic sweet potato hash, you'll want to make sure your sweet potatoes are peeled.
Step 2: Place a large bowl or plate on your countertop and plop your cheese grater on top.
Step 3: Grate your sweet potato using the medium grate size. You can really use any size you want, but for this recipe, you'll want your sweet potato hash browns to be medium.
SWEET POTATO HASH PROTEIN BOWL GROCERY LIST
Lin and I decided to create a similar sweet potato hash recipe, but with tons of veggies and protein. Here's what you need:
sweet potato (any kind of potato will work)
kale (on the bone)
onion (any kind)
red pepper
pre-cooked chicken sausages
minced garlic
balsamic vinegar
salt and pepper
We picked up some delicious pre-cooked chicken sausage for this recipe. You are more than welcome to use uncooked, but pre-cooked is just so much easier. Some of our favorite pre-cooked chicken sausages with no antibiotics includes: Aidell's and Applegate.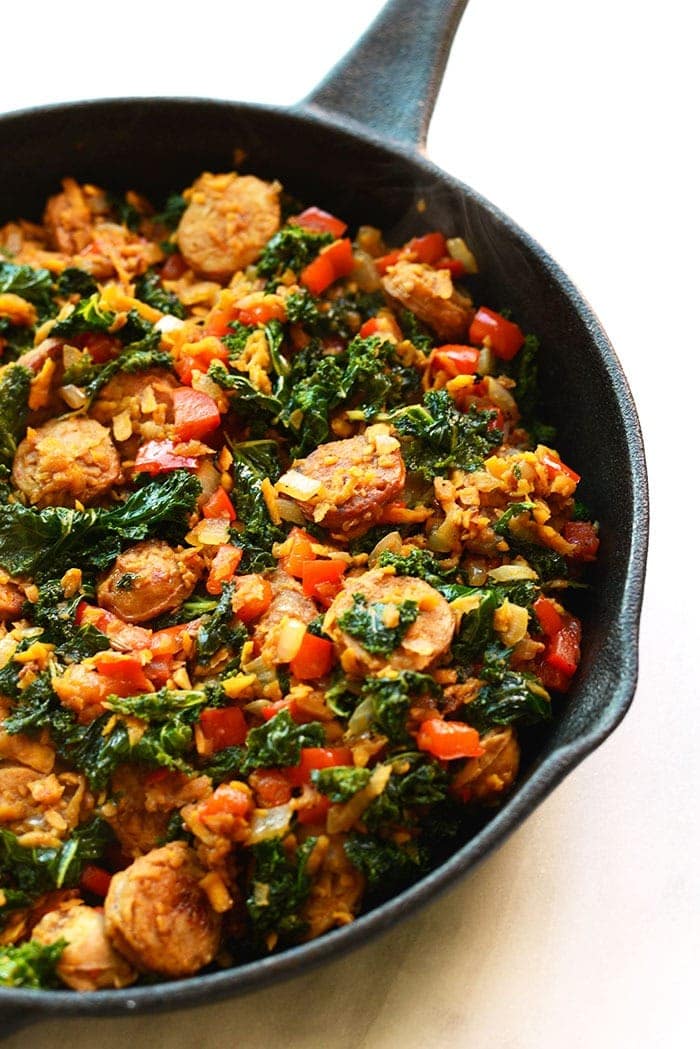 DO I BAKE SWEET POTATO HASH?
I actually recommend not baking sweet potato hash, rather using your stove top and pan frying. To keep things a little bit healthier, you can use olive oil or coconut oil and sautee instead of deep fry!
INGREDIENTS
2 tablespoons olive oil
1 tablespoon minced garlic
1 large sweet potato, peeled
1 red pepper, finely diced
1/2 yellow onion, finely diced
4 chicken sausages, precooked
4 cups kale, deboned
salt and pepper, to taste (be generous!)
2 tablespoons balsamic vinegar
INSTRUCTIONS
Place 1 tablespoon of olive oil in a nonstick skillet and heat over medium/high heat.
Next, prepare your sweet potato hash browns by grating your sweet potato with a cheese grater. You'll want to use a medium grate for this.
Add in the sweet potato hash, onion, garlic, red pepper, and sliced chicken sausages to the skillet. Sauté for about 5-7 minutes or until onions become translucent.
Add in kale and a tablespoon more of olive oil (or more if needed) and sauté until kale has wilted and reached desired texture. Season with salt and pepper and then add in 2 tablespoons of balsamic vinegar.
Give your sweet potato hash one last toss and enjoy!