These 3 ingredient flourless brownies were developed by a complete accident. I was in the midst of making a smoothie and had put some banana, cocoa powder and peanut butter into a blender. It was only then I realized that I had run out of milk.
Instead of throwing out the contents of my blender, I gave them a quick blend and was left with something that resembled batter. I decided to take a chance and transfer them to a baking pan and baked them as though they were brownies.
What resulted from this experiment was a fudgy, rich brownie-like treat, perfect to satisfy any chocolate fix or sweet tooth.
Healthy Oil-Free Brownies with Banana
The best part? These healthy brownies were 100% guilt-free!
No oil. No sugar. No grains. No flour. Low carb.
3 Ingredient Brownie Ingredients
You only need three ingredients to make these healthy flourless brownies with 3 ingredients.
Mashed banana
Cocoa Powder
Almond Butter or Peanut butter
That's it!
If you have a nut allergy and want to keep these nut-free, you can replace the almond butter or peanut butter with either sunflower seed butter or tahini. 
Optional but highly recommended – A handful of paleo and vegan chocolate chips!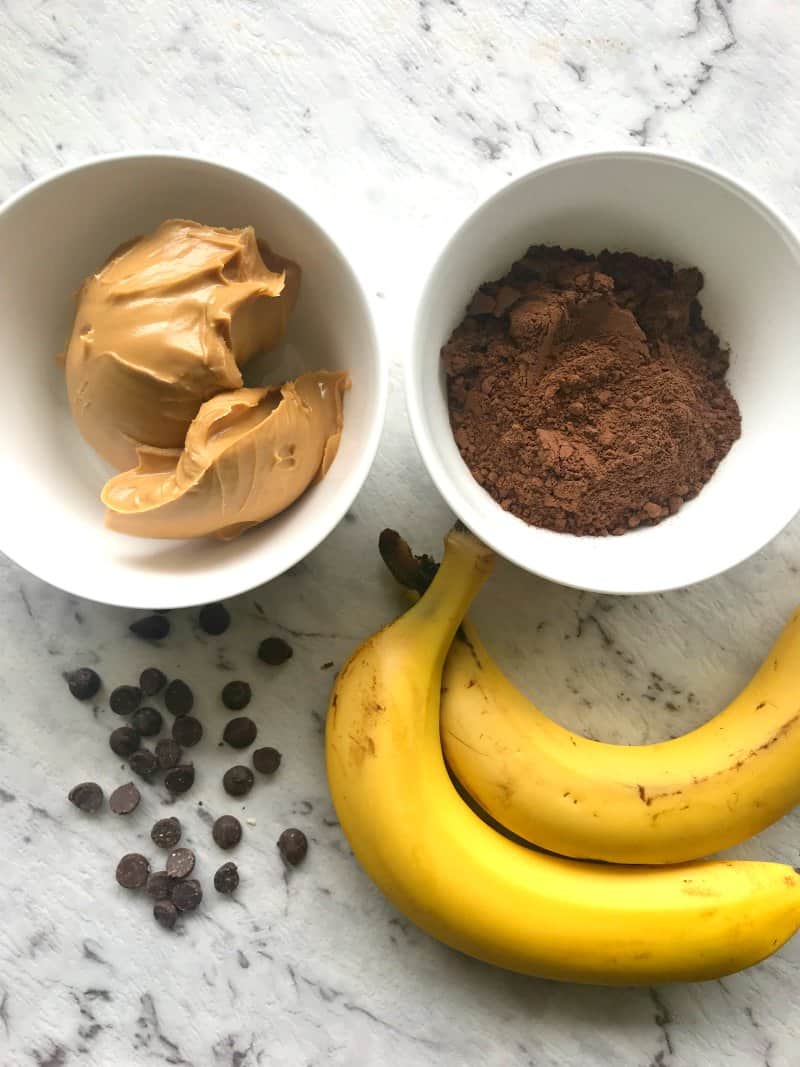 How to make healthy 3 ingredient flourless brownies from scratch
Step 1: You'll start by preheating your oven to 180C/350F. Line a square pan with parchment paper and set aside. Then, add your bananas into a large mixing bowl, and mash them completely. Alternatively, you can blend them using a blender for an even smoother texture (highly recommended).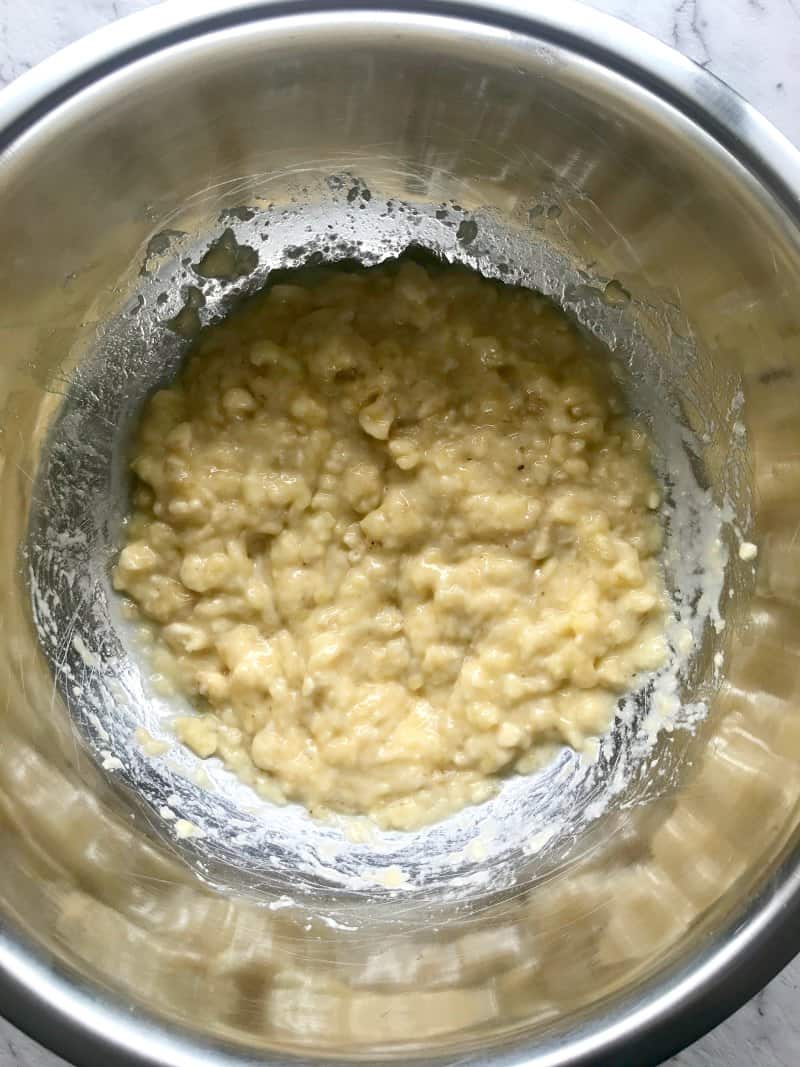 Step 2: Add your peanut butter/almond butter and cocoa powder.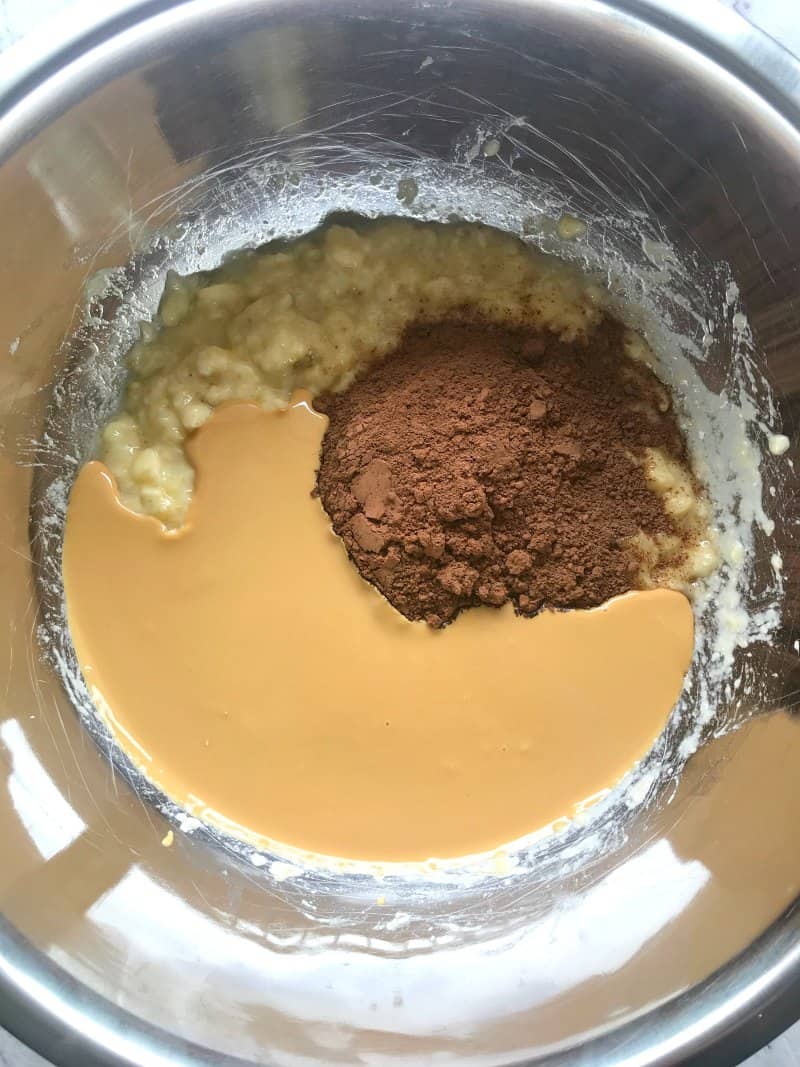 Step 3: Mix your ingredients until fully incorporated. If desired, add chocolate chips to it and fold them through.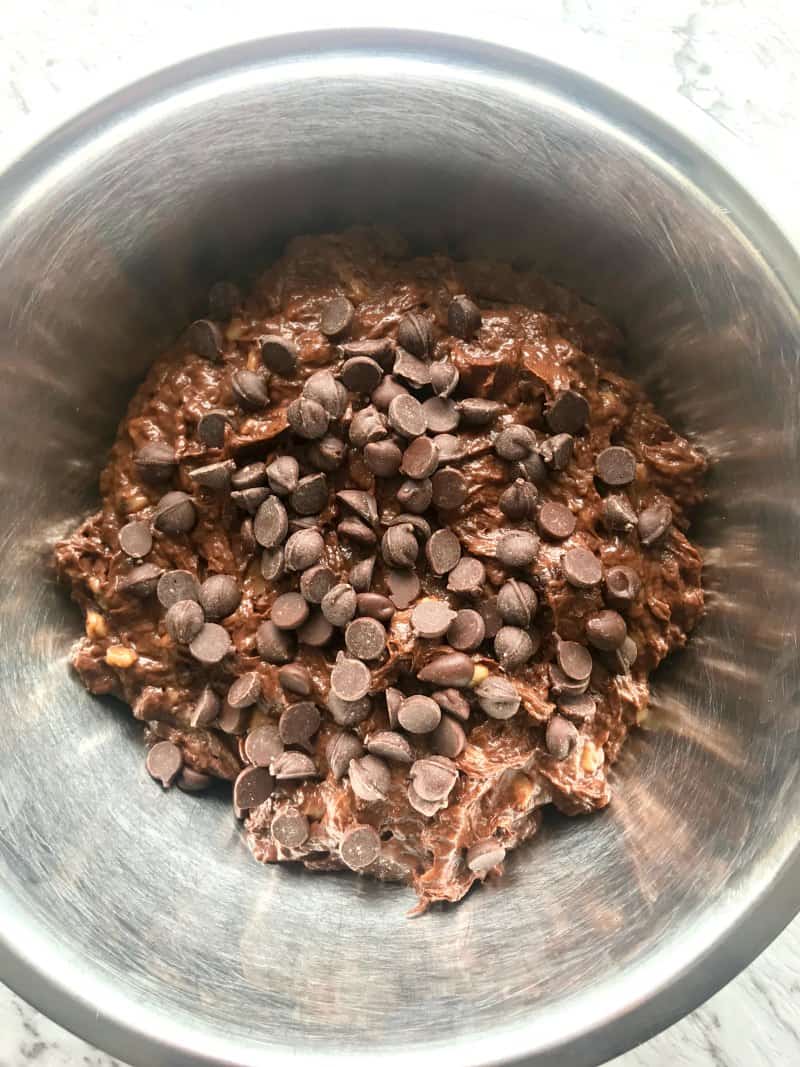 Step 4: Transfer your brownie batter into the lined pan.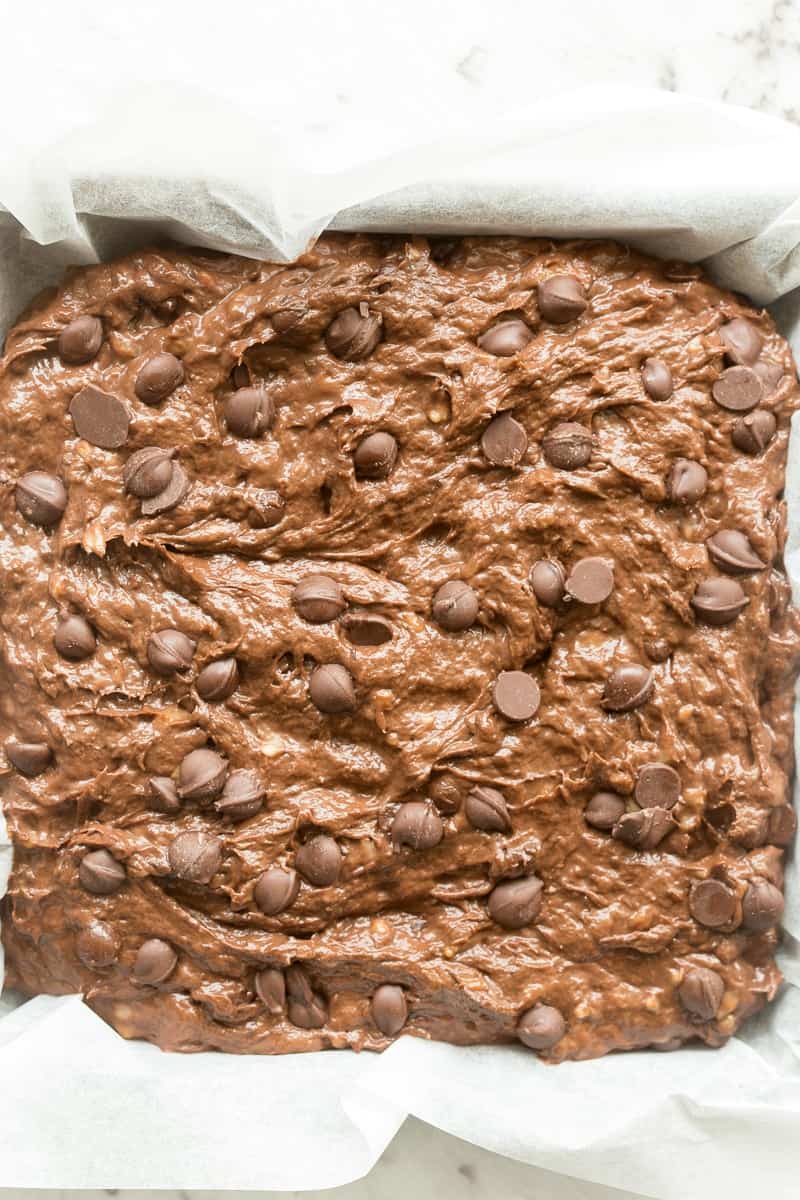 Step 5: Bake your 3 ingredient brownies for 17-20 minutes, or until a skewer comes out just clean. Allow brownies to cool in the pan completely, before slicing into 9 pieces.
Do these brownies taste like banana?
I'll be honest. These brownies are 100% healthy, guilt-free and made with incredibly healthy ingredients. They will NOT taste like traditional brownies and DO have a slight banana flavor. In fact, if you aren't a fan of bananas, I do not recommend this recipe.
Can I substitute the banana for something else?
The banana is my favorite starch base as it is naturally sweet, and often sweet enough to make sure the brownies taste like a healthy dessert.
These brownies are not sweet at all. How do I sweeten them?
If you taste-test the batter and find it to be not sweet enough to your liking, you can add one of the sweetener options below:
Liquid Stevia. Add 1 serving to your batter (5 drops) and give it a taste test. If it still isn't sweet enough, add a few more drops.
Maple Syrup. For a refined sugar-free brownie, add 1/4 cup pure maple syrup and an extra 2 tablespoons of cocoa powder. The brownies using maple syrup will be extra gooey.
Agave nectar. Like maple syrup, add 1/4 cup and increase cocoa powder by 2 tablespoons.
Coconut palm sugar. Add 2 tablespoons of coconut palm sugar to the batter. You won't need to amend any of the other ingredients if you use this.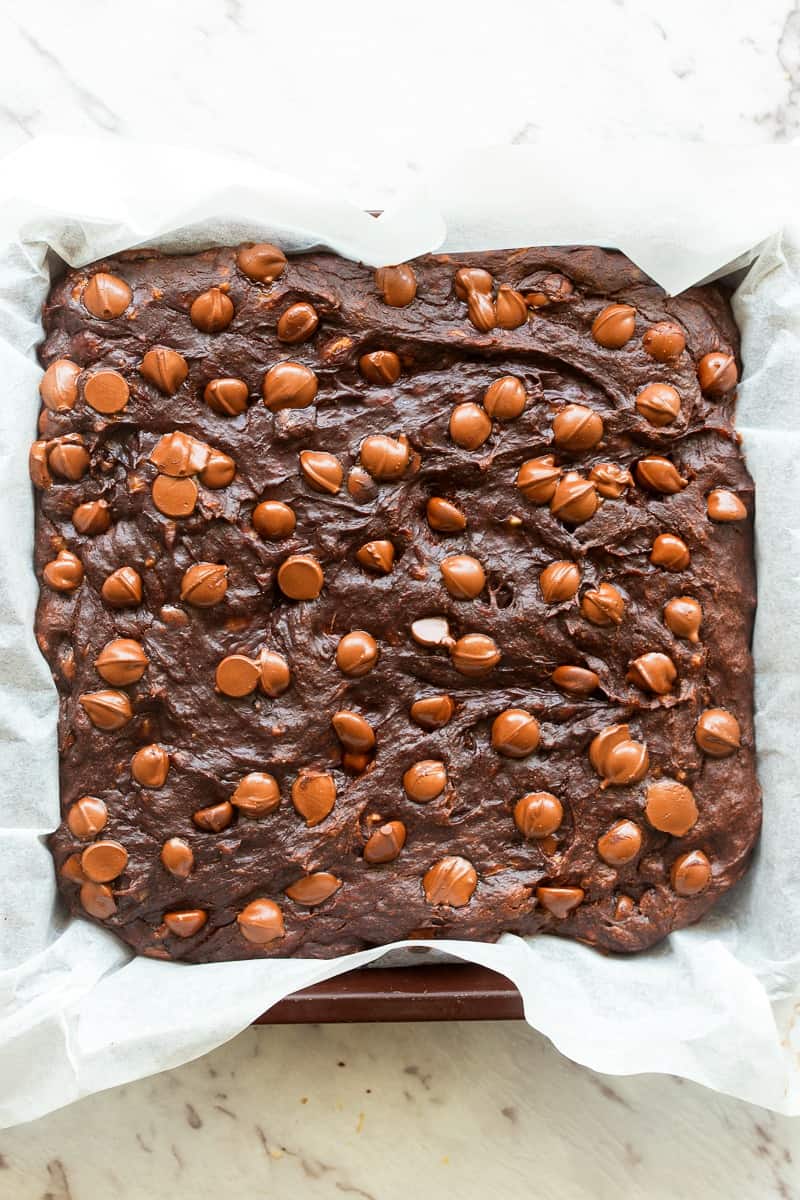 Storing healthy flourless brownies
Do NOT store flourless brownies at room temperature. The brownies are incredibly fragile and need to be stored in the fridge.
Place cooled brownies in a sealable container and keep them in the fridge at all times. They will keep for at least 5 days.
Bonus secret tip: The brownies taste AMAZING chilled from the fridge.
Can you freeze these brownies?
These flourless brownies are freezer friendly and can be stored in the freezer.
To freeze, wrap the cooled brownies in parchment paper and place them in individual ziplock bags. Frozen brownies will keep for 6 months. Thaw them in the fridge overnight or at room temperature.
Can I have these brownies on the whole30 diet?
While these brownies contain ALL 100% whole30 approved ingredients (banana, unsweetened cacao powder, and almond butter), they are technically NOT whole30 approved. The whole30 diet promotes whole food ingredients (which these are!) but not disguised as desserts or treats.
However, if you are loosely following a whole30 diet, these could be included.
Ingredients
6 large bananas
1 cup almond butter can substitute for peanut butter or another nut/seed butter
1/2 cup cocoa powder
1/2 cup chocolate chips of choice Optional
Instructions
Preheat the oven the 180C/350F. Line a square pan with parchment paper and set aside.
In a large mixing bowl, add your bananas and mash well. Alternatively, you can blend them. Add the rest of your ingredients and mix well. If desired, fold through chocolate chips.
Pour the mixture into the lined pan and bake for 17-20 minutes, or until the skewer comes out clean.
Allow brownies to cool in the pan completely, before slicing into pieces.
Notes
For a smoother batter, add all the ingredients into a blender and blend well.For the best texture, enjoy refrigerated.